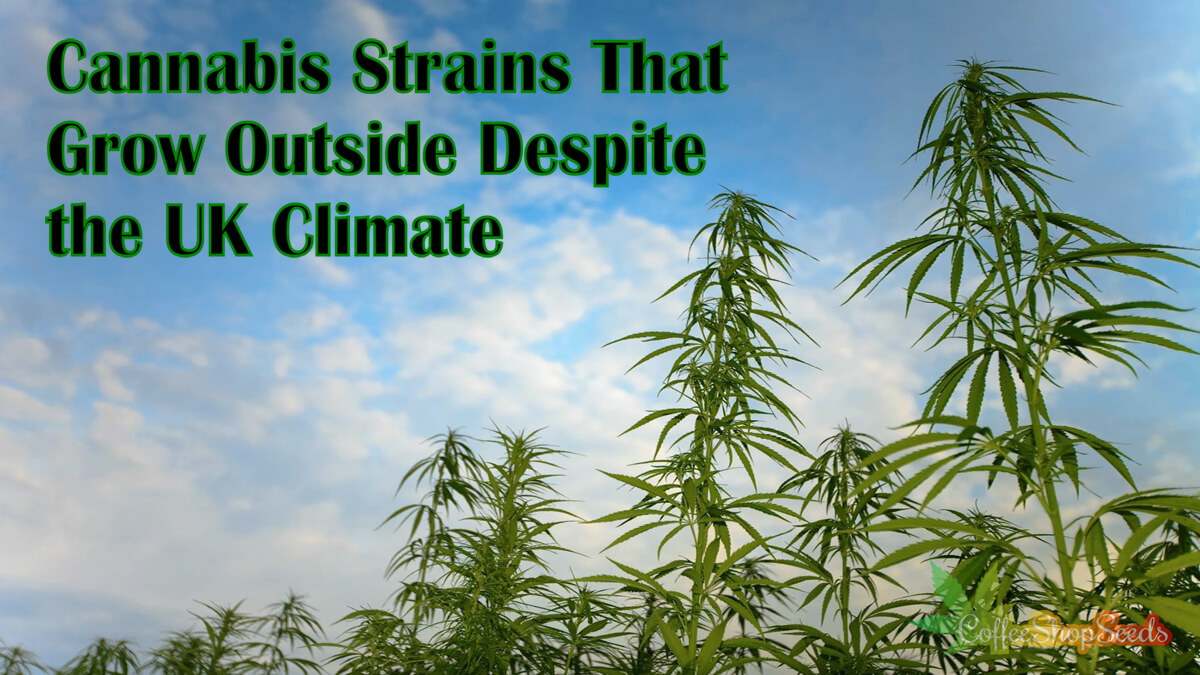 4 Cannabis Strains That Can Grow Outside Despite the UK Climate
The UK climate is not exactly known as an idyllic paradise. We live in a temperate region. We get cold winters and warm summers—and both incredibly wet. The climate of the different parts of the UK can also differ, but this is bearable for the people who live there. Cannabis, however, may not be as adaptable.
Cannabis plants generally respond great to Mediterranean weather: hot days and warm nights. That kind of heat is not always present in the UK. However, not all cannabis strains require such temperature constraints. Here are a few varieties that you may be able to cultivate in the UK climate.
Top 4 Cannabis Strains That Can Thrive in the UK Climate
1. Blue Dream
Blue Dream is a Sativa-dominant hybrid, mixed with Blueberry and Haze. This strain is well known among professional cannabis breeders for its commercial yields. It is a popular strain in the US but has increased in demand in Europe because of its adaptability to any climate. It can also yield up to 500 g/m2.
2. Critical
If you're a grower who doesn't live in the southwest, this strain may be for you. Growers from Northern Scotland and the Highlands need something like Critical, a strain that can handle a shorter growing season and cold weather.
The THC levels of this strain provide a well-balanced high, which makes it popular amongst casual or recreational users. You can expect a 600–650g/plant after a flowering period of two to three months.
3. Cream Caramel
Cream Caramel is known for many things. To users, it is known for its sweet caramel aroma, being a 90 per cent indica cross between BlueBlack, Maple Leaf Indica, and White Rhin. It is covered in THC-rich resin, which makes it soothing for the mind and body. To growers, this strain is relatively easy to grow, only taking seven weeks to mature.
4. Early Skunk
Early Skunk is a strain by Sensi Seeds. Just as the name suggests, it is one of those strains of cannabis that are great for smokers who enjoy an earthy taste in their weed. It was created so to grow anywhere despite climate restrictions. It can also grow both inside and outside.
The original Skunk #1 was already known for this feature, but this was cross-bred with Early Pearl to make it more resilient. You can expect bloom in 55–65 days.
Conclusion
Cannabis is not as complicated as most people assume it is. Just like any other plant, the different strains of cannabis require certain circumstances to grow and thrive. Climate is certainly a big factor when it comes to growing any type of crop. However, selective breeding can allow certain strains to be more resilient in different conditions. These seeds, for example, will yield in UK weather conditions, as long as you take proper care of them.
Whether you're starting out or have been growing your own cannabis for a while, one thing is certain: you need quality cannabis seeds for a luscious garden. Coffee Shop Seeds offers premier cannabis seeds, marijuana seeds, and CBD for the best value. View our wide selection of quality seeds today!